Social programs
The Jewish Community Charity and Cultural Center "Hesed" provides its support with the assistance of the American Distribution Committee "Joint" in cooperation with the Claims Conference Foundation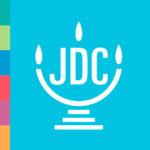 HESED
(OE Hebrew חסד‎; ḥesed)
"Mercy", "Generosity"
Hesed will provide all kinds of material, organizational and psychological assistance and support to the most vulnerable segments of the population - the elderly, the disabled and Jewish children and family members.
Our organization carries out work on the study of the history and traditions of the Jewish people, organizes leisure activities for the elderly and young people, pays special attention to morality, and is seriously engaged in the upbringing of children and the younger generation.
Hesed maintains interethnic friendly relations, which strengthens friendship between people of different nationalities to strengthen friendship between peoples and nationalities.
Hesed of Tiraspol renders services on the territory of the entire Pridnestrovie.
Claims Conference
The claims conference distributes hundreds of millions of dollars a year in direct payments from Germany to tens of thousands of Holocaust survivors in 80 countries and regions. Current compensation programs are the Article 2 Foundation, the Central and Eastern Europe Foundation, the Hardship Fund, and the Child Survivor Fund.
Visit website