Newspaper "Dniester Pravda", September 29, 1990

N. PASENKO, Chairman of the Council of the Fallen Prisoners of the Nazi Torture.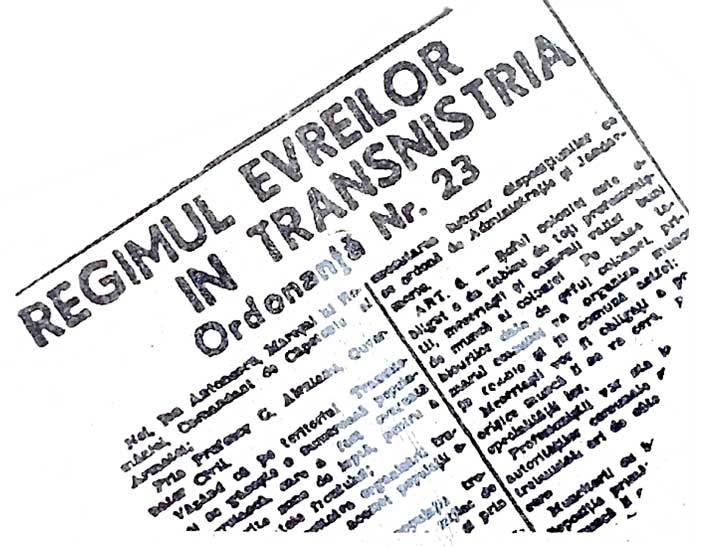 Before you, dear reader, is a unique picture that came to us from distant Jerusalem, from the National Institute for the Memory of Catastrophe and Heroism. Please note: the second world war is indicated there as the Catastrophe (that's right - with a capital letter) and Heroism. This is a fragment of a German map showing the places where Soviet people were imprisoned. We tried in vain to find this map in our military archives. They began, it was, to independently prepare it according to incoming documents. We got over 50 places of detention and destruction in the governorate of Transnistria - the interfluve of the Dniester and the Southern Bug. We were afraid to publish these data, considering our calculations too high and erroneous. Having received the map, we realized that we were mistaken by two or three orders of magnitude. Yes, yes, according to the most superficial estimates, over one and a half hundred concentration camps and ghettos were located on the territory of Transnistria.
Let's take a look at the map. According to the archival documents we have, all places are marked with a black circle, these are the locations of concentration camps. The settlements marked with a triangle are ghettos. Turning to the list of concentration camps and ghettos of Transnistria, stored in the Odessa State Archives, we will find that the so-called stalags are marked on this map - headquarters centers around which affiliated death factories were formed. The mentioned State Archive stores documents of Balta and the Baltsky region (camps and ghettos located in them), Lyubashovka and Lyubashovsky region, Bershad and Bershad region. In each of these areas, there were several more camps and ghettos. This is a conversation about those camps whose documents have survived to this day. There are no documents at all regarding such combines for the destruction of human lives as Bogdanovka and many camps around (Varvarovka, Akhmatchevka, Vradievka, Domanevka, Pyatihatka and others), or Pechery near Tulchin. But there are people who have gone through this hell, in many places commemorative signs have been erected by enthusiasts. In most cases, these places are in disrepair. But more on that later.
So, if we add at least three or four daughter camps to the thirty designated settlements (this is a ridiculously small assumption), then we will come to the promised one and a half hundred camps and ghettos). This is where we come to the second picture. This is Antonescu's order to place the Jews of Romania and Bessarabia only in the places designated for this. In fact, no Jewish family had the right to reside outside the barbed wire. Disobedience was punishable by death, however, like obedience.
So what is Transnistria? What does this "paradise" arranged by the fascist regime mean? Why does everyone who went through it and survived today share their memories with a shudder? I do not agree that only the post-war regime of contempt for the people who were behind the barbed wire of fascist dungeons is to blame for this. This factor is not ruled out, but the decisive factor, in my opinion, is the protective reaction of the human psyche. For it is excruciatingly difficult to return to those days even in memories.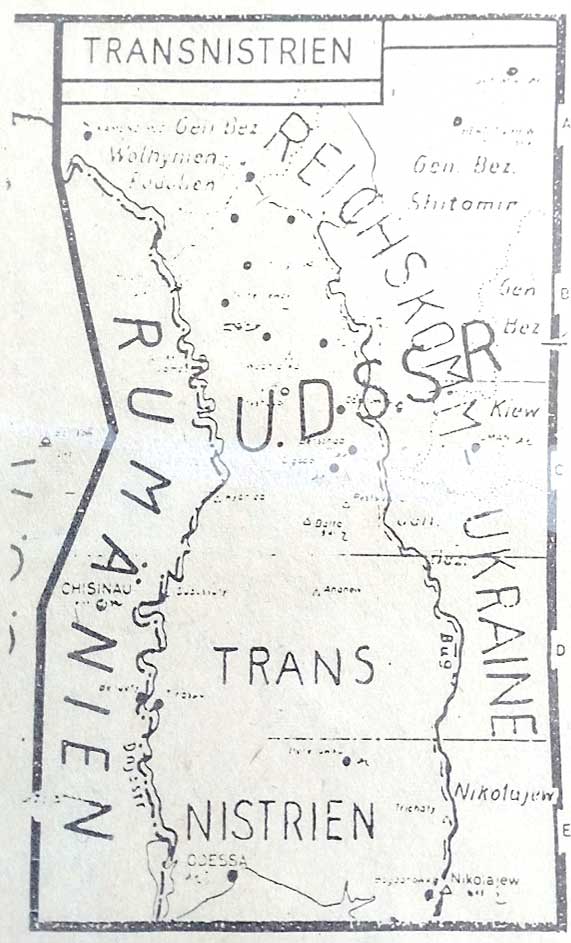 What is Transnistria? These are the open-type crematorium of Bogdanovka and hundreds of people boarded up for several weeks in barns near Domanevka. This is the everyday heroism of Rybnitsa Rabbi Chaim Zamvel and two doctors who risked their lives to save people. This is the loss of family and friends. This feeling of guilt before the regime only because you are not of the same nationality as they are. How it fits today!
Transnistria is pumping out blood from the children of the Baltic children's camp, from children in the camps of Pechera, Tulchin, Bratslav.
From memories: "I was six years old. Mommy died. And the Romanians were too lazy to bury the dead and shot. To intimidate us, they piled corpses in the central square. They were carried out in clothes and thrown on a pile. A few minutes later, one of the prisoners was pulling off their clothes. All the bodies were naked and intertwined with each other with arms and legs. There was a severe frost, and this pile of bodies turned into a monolith. One day a German officer arrived. He shouted loudly at the Romanian guards and ordered all the corpses to be buried. The Romanians gathered all of us and forced this solid mass of human bodies to be chopped with an axe. And we, children, carried pieces in carts. I remember how I carried a piece from my mom ... "
From memories: "We were all, four hundred people, herded into one barn and the door was closed behind us. We stood close to each other, and then there was nothing to breathe and people began to knock on the door. My brother was knocking on the door too. He was the most handsome in the village and the girls loved him very much. He had beautiful hair, he beautifully sang various songs. He pounded on the barn door and yelled to open the door and give us some air. Then one Romanian soldier jumped into that barn, grabbed my brother by the forelock and cut off his head in front of our eyes ... "
From memories: "Then I was told that there were two thousand of us there. I was small, I was only six. We were chased for a long time. We left Bogdanovka and walked all the way to Lyubashovka. There is a farm Veseliy Kut. There we were all shot to death. Mom, when she fell, fell on me. And one policeman saw and, when everyone left, he returned for me and took me to his farm worker. Then ours put him in prison for twenty-five years. He sat. Here, when a decree was issued on benefits for juvenile prisoners, I went to the security service and said that I was in a concentration camp and they shot me. And they tell me, they say, bring the document. I agreed and went there. And then the policeman is still alive. He remembered me, recognized me, and in the presence of the chairman of the village council and a policeman, he testified that everything happened this way and that way. I took this paper and back to the social security, and they looked and said, they say, you never know what the enemy can say, you give us a document from the camp ... "
What is Transnistria? This is the territory between the Southern Bug and the Dniester, donated by Hitler to Romania in response to a promise to turn this place into a continuous prison for the people. The promise was fulfilled with zeal, in the spirit of the highest fascist fulfillment. Transnistria is, according to superficial data, a million human victims. Of these, 800 thousand Jews.
Transnistria is crippled human destinies, this is our bitter memory, about which not a single line has been written in our history. This is an unopened book that has been kept under seven seals for a long time. The former regime was indifferent to the fate of everyone. The current one too. Let's break it down for the reader. Let him shudder at the truth, at the impunity of the guilty, for the topic of the crimes of Romanian fascism was closed to us. King Mihai was awarded the Order of Victory and all sins were forgiven. I think it is not too late to bring to justice the crimes against humanity, against the nation, for which the word Transnistria is translated unequivocally - prison.
I appealed to the deputies of the SSRM parliament with a request to create a government commission to investigate the atrocities of the Romanian invaders on our land, but alas!!! I think that we still have a chance, because the victims of rampant Romanian fascism are still alive in our country, who can and should come forward as witnesses at the trial. I'm afraid that after some time you won't be able to bring them, the elderly and sick, from abroad ...