From the magazine "Military Brotherhood" No. 7 October-November 2011, heading "People and destinies. Echoes of War.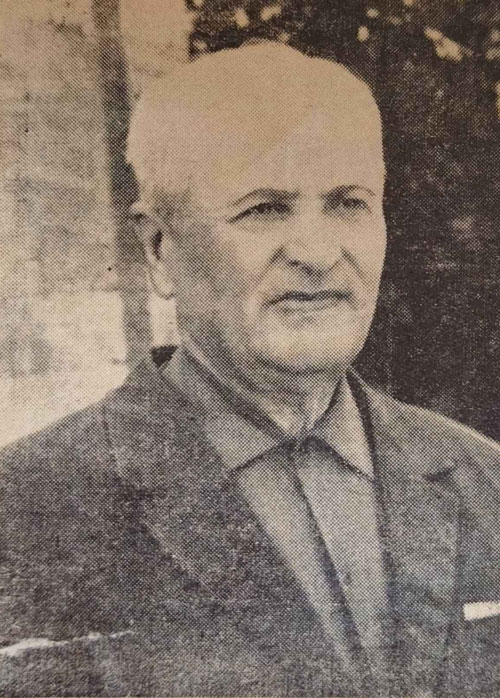 Parents told their daughter about the war little and rarely, because they tried to forget, it was painful for them to remember this nightmare. And children usually do not show much interest in the life of their parents. This is how important and irreplaceable information about our relatives leaves and is erased from the memory of the family tree. And in order for the family tree to be evergreen and blooming, it should be fed with a careful attitude to the history of the family ... But even the information that has been preserved in the memory of the child is amazing and makes people admire those who survived these events.
In the summer of 1941, Sonya's husband, while defending Odessa, was seriously wounded. Sonya, having a small child in her arms and hoping for the best, did not want to evacuate the city and leave her husband. But hope was dispelled when the German-Romanian troops entered Odessa.
Sonya's husband, along with other sick and wounded, was shot in the hospital. Sonya hid for some time with her Russian friend.
It sounds insignificant and dry: "Hiding with a Russian friend." But what was going on in the city these days?! Raids on Jews, brutal executions. They spared neither the sick, nor the old, nor the pregnant women, nor the babies. Death walked around the city, swayed on makeshift gallows, lurked in the ashes of those burned alive. For some time, Sonya was rescued by a Ukrainian passport, then the passport was stolen by a "good" friend.
Sonya was caught during one of the raids, and in a crowd of other equally unfortunate people they drove along with her little daughter. The girl remembered this road as a strong blizzard. It was still very small, and only separate fragments were imprinted in my memory.
The girl was very pretty, conspicuous, and this may have saved her life. When they were driven along a narrow track past one of the farms, a man ran up to Sonya and said: "Give me the child. You will die anyway, but at least the child will remain alive. Sonya gave.
The rest of the children, under the pretext that they would be taken on a wagon, were taken away from their parents, thrown into a pit and buried alive. Sonya's daughter found a new family. The man who took her in to raise her turned out to be a village headman. He was sure that the girl's mother had been killed long ago, he treated the child as if it were his own. She was baptized in the church, they gave her a new Ukrainian name - Galya, she quickly learned the Ukrainian language. True, I had to cut her blond curly hair. The village was occupied by the Germans, God forbid they would have found out that someone had sheltered a Jewish girl.
Galya was beautiful, fair-haired, with huge eyes halfway across her face. The Germans, seeing a pretty girl, often treated her to sweets.
The small, but mischievous and quick-witted son of the owner of the hut, seeing the candy, ran up and said: "Give me the candy, otherwise I will tell everyone that you are a Jew." And Galya gave. Although she was very small, she already understood that a "Jewish woman" was something very terrible and bad. The war quickly made me realize that it was safer to give away the candy.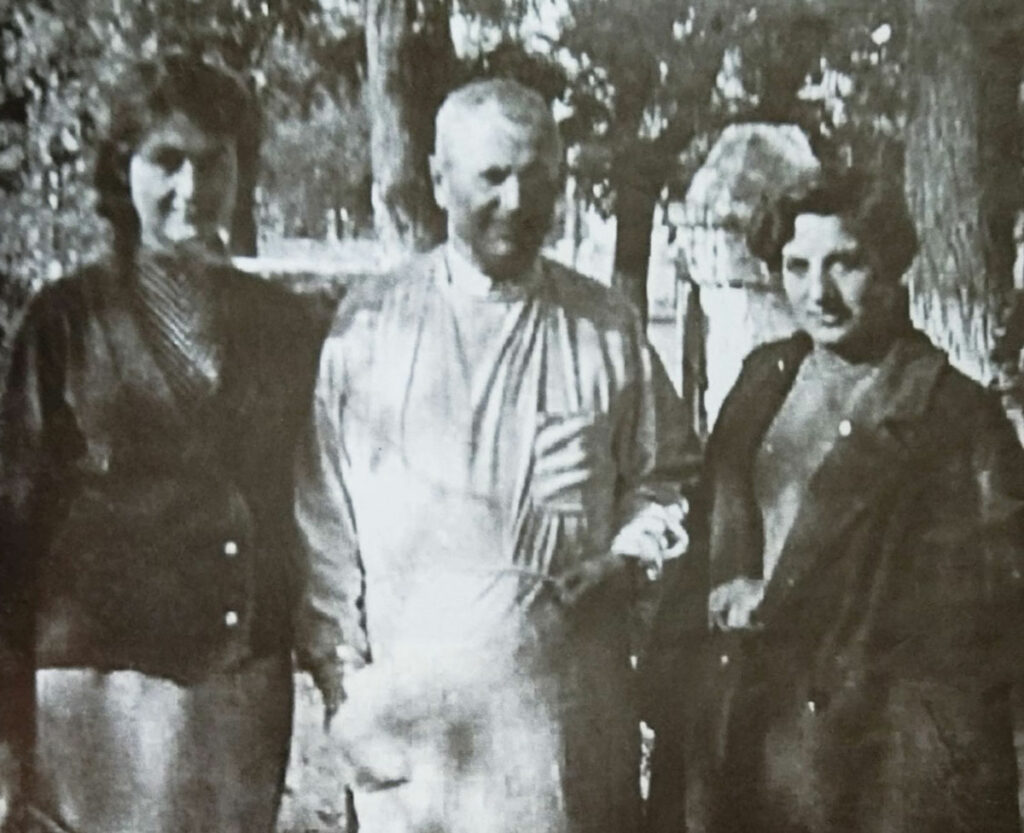 Although she lived in relative peace, in the countryside, she had to see everything there. So, after the war, she told her mother that she saw "how the Jews were buried alive in the village." Gali's mother was driven to the Akhmechetka concentration camp. Sonya was young and healthy, looked hardy, and she was selected for agricultural work. This is what saved me. Many years later, recalling Akhmechetka, Sonya said that even the grass was eaten in the camp, any attempt to transfer anything edible to the camp was punishable by death.
In captivity, Sonya met Samuel, a physician. She got sick and he took her out. While treating, I fell in love. Sonya was beautiful: delicate features, huge eyes, long black braids. And then she fell in love too.
Viktor Frankl, in his work "A Psychologist in a Concentration Camp," wrote that in the camps those who broke down and committed suicide were the first to break down and commit suicide, those who ceased to hope that one day he would be free, and those who could not rely on some kind of the highest spiritual meaning of life.
It is difficult to rely on the spiritual when the body is tormented, when you want to eat, when you are being mocked. But there is nothing more to rely on!
Someone fell into apathy, someone threw himself on a wire through which an electric current was passed. But there were also those who, by an effort of the spirit, tried to rise above the unbearable circumstances of life. And there were and are lucky people who have such a fire of love of life, energy that death itself gives in to them.
Samuel possessed an amazing natural love of life and optimism. Not that feigned, strained one that twists his lips in a fake smile, but an inexhaustible inner source, thanks to which even in the last minutes before death a person is looking for a way out, and does not humbly lower his head before the inevitable. Samuil learned Romanian and German in captivity, got medicine, nursed the sick with typhus, and saved many lives. After the war, he received letters of thanks from the people he had saved for a long time. During the war, he visited several camps, escaped, he was shot, he survived.
In one of the camps, the Nazis established a rule: if someone escaped, every tenth person was shot. A small and frail Samuil, stronger guys invariably pushed him to tenth place in the line. When the turn came to Samuil, the Germans looked at his thin, unprepossessing figure and with the words "This one will die on his own!" chose the taller and stronger. And so every time.
But he didn't die. And in a sense, "even vice versa." In the camp, Samuel and Sonya had a daughter - Rita, a strong girl.
The details of their life in the camp were not preserved, it so happened that the war scattered them across different camps. Samuil escaped from another camp and returned to the village of Nadezhda, Odessa region, where he worked as a paramedic before the war. Fellow villagers hid from the Nazis. One of them, Alexandra Timofeevna Minzul, despite having four children, was not afraid of reprisals and hid Samuil in a Cossack farm.
Sonya, along with other camps, was liberated by Soviet troops. After her release, she, not really understanding what to do, wandered in a crowd of other similar former fellow campers with a barely alive Rita in her arms. Rita was swollen with hunger - a huge head and a disproportionate body. But alive! Rather, both are alive - both mother and daughter!
Our Soviet military looked at Sonya with a baby in her arms, and then abruptly approached, put a gun to Rita's ear and began to shout, mixed with obscene language, that, they say, she had a child from a German, and that he would now kill both. But took away, did not have time. The nearby women, who knew Sonya and Samuel, began vying with each other to shout that the child was not from a German, but from their own, from a Jew. Somehow calmed down. Someone then said that the whole family of this military man was killed ...
After being released, Sonya went to look for her eldest daughter. She found the village near which she gave the child. She came to the local government, began to describe the man who saved Galya, asking if they knew where to find him, whom she should thank. They listened to her and, when they understood who they were talking about, they cut her off and, hiding their eyes, advised her to quickly pick up the child and leave the village. The man who saved Galya was tried and shot as a traitor to the motherland. She didn't have time to thank him. When Galya saw her mother, she refused to go to her, ran away with tears. Not because I forgot. She didn't understand why her mother left her. All the time she lived with strangers, she thought that her mother had abandoned her, and a strong obsession ripened in her soul. Somehow, with tears and tantrums, her mother took her and got to Odessa. The apartment turned out to be occupied by other people, there is no property, two children in their arms. The only thing that survived from her former life was a gold wedding ring, which she hid in the leg of the bed. Rather, she hid two wedding rings - her own and her first husband's, but upon returning to Odessa, she found only one. It is not known where the second one went. She gave the ring to her daughter in memory of her own father. It was difficult to survive in post-war Odessa. Sonya and her children lived from hand to mouth until Samuel found them. Samuil took all three of them to the village of Nadezhda, to a spacious white house. This house still stands today, however, it is finished differently on the outside, but much has been preserved inside: white painted German shutters (both the village of Nadezhda itself and the house were built by Germans who lived in this village for a long time), closed from the inside of the house, a stove with tiles, stucco on high ceilings; the layout of the rooms has been preserved, in one half of the house Samuel received the sick, in the other his family lived.
The villagers still remember this married couple with great love and tenderness. "It's a legend. There are no more such people. These are the holy people. Kindness itself! They were a single whole ... "- this is how those who knew them talk about them. Samuel was not just an excellent doctor, helping people was his life credo. And the calling of his wife was to be his worthy assistant in everything. Samuel went to the sick at any time of the day. Is it night, morning, two, three, four in the morning. Doctor for several settlements. There was no specialization. When a person feels bad, but there is no one to help except you, not up to specialization. Someone had a toothache, someone had a heart, someone was poisoned - they went to him with any illness. Often I had to go to the patient at night, on impassable roads, and for seven or eight kilometers.
People like the sun illuminate everything around. As their close friends Nina Petrovna and Mikhail Moiseevich Ostarkhov recall, people were of a rare nature. Beautiful externally and internally. After communicating with Samuel, you begin to feel life, you look differently at problems and difficulties. For anyone, he found such words of support that the person, as it were, "resurrected." There is a touching detail: they kept a chair that belonged to the Shufmans as a keepsake, and upholstered it with the material from which Sonya Shufman's coat was made, so that there would be a thing in the house that reminds them of people dear to them.
It is noteworthy that the Chernoguses built a huge nest on the roof of the Shufman house. They say that this means that the inhabitants of the house will have a happy life. Or maybe this is not a sign, but superstition, and it's not the birds that attract happiness to the house at all?
Birds have a special flair and choose the roof of the house where strong and cheerful people live. Such people do not seek happiness, do not call for joy, uninvited joy comes by itself and seeks to settle nearby. And, perhaps, the greatest joy is when a good memory is preserved of you, when you are remembered with love and tenderness after forty years. The Shufmans left for their son Marik from the village of Nadezhda in Bendery in 1973. But Samuel never got used to it, he still loved the people for whom he worked. He often wrote to Nina Petrovna and asked to tell even about the insignificant details of the life of his former patients, familiar fellow villagers.
As Nina Petrovna Ostarkhova said, "you must be able to live in such a way that people have a good memory of you for many years ...".