provided by her daughter, Tatyana Kadochnikova
In 1944 we boarded a train and went to Tiraspol. #
Our father died at the front, and his brother lived in Tiraspol. In the end, exhausted, we leave at an unfamiliar station with a handwritten sign: "Tiraspol". We, the children, were left with our belongings in the dilapidated building of the station, and my mother went to the city on foot (buses did not run) to look for my uncle. She returned with stunning news: her uncle was not in Tiraspol.
The head of the city health department helped. I told my mother that doctors are very needed. Without delay, she applied for a job, and then helped to find housing. This is how we met Elizaveta Naumovna Litvak. It was on her that the unforeseen hardships of our family fell upon her, which she helped to solve.
And our long road from Russia to Moldova came back to haunt us with typhus. I got sick with my younger sister. And they got sick at the most inopportune time. There is only one hospital in the whole city, and that one is in an unsuitable, hastily restored building. The city thermal power station was also in ruins, the water supply did not work.
We are lying in a typhoid ward and my mother rushed between me and my sister Allochka. At night, an emergency occurred: the sister on duty stumbled in the semi-darkness and dropped the oil lamp from her hands. Flammable liquid spilled across the floor and flames engulfed the entire ward.
Mom grabbed Allochka and rushed to the exit.
"Run," she called to me.
I raised my head, saw the flames, but could not get up.
"Whatever happens," I thought, and lost consciousness.
And there was this. Mom returned and, together with the nanny, began to put out the fire. They grabbed blankets, threw them on the fire, trampled it with their feet. By the time firefighters arrived, the fire had already been extinguished. Alla and I recovered from typhus for a long time, but it took even longer for our mother and the hospital nurse to heal their burns.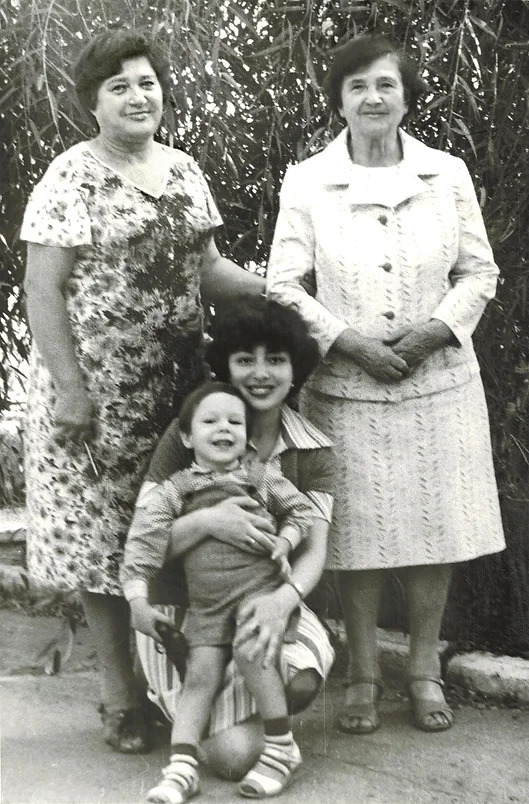 Our family quickly took root in Tiraspol. #
Mom - Vera Vladimirovna Stalinskaya - is a whole era in the history of post-war healthcare in Tiraspol. I remember 1945 well. Mom every morning on foot across the city went to work in the medical town, where the hospital buildings were restored as a matter of priority. She came home upset: children exhausted by the war were completely ill with tuberculosis, and there were no tuberculosis doctors. And she decided to master this specialization. And mastered it. She became the first children's phthisiatrician in Tiraspol. Probably a good half of the post-war Tiraspol children passed through her hands. There were huge queues at the reception, the reception day was dimensionless. She visited her patients at home, as she could help the families of sick children in solving everyday issues.
Often in the middle of the night there was a knock on the door: "Doctor, help, the child is sick." She always got up and went. And she didn't take a penny from parents who were desperate and ready for any fee.
One of the first invited Dr. Stalinskaya to the medical school that opened in Tiraspol. Teaching was her second calling. She loved her work at the school and did not leave it until her retirement. And she devoted herself to one more thing with all her heart: work in kindergartens. She introduced in kindergartens: gymnastics, hardening, proper nutrition, the use of gaming forms of education in the classroom. She organized the treatment of children with early forms of the disease right in kindergartens.
In 61, at the age of 64, my mother got married and left Tiraspol. But many years later, people, recognizing my last name, asked: am I a relative of Dr. Vera Vladimirovna Stalinskaya? And, having found out that it was a daughter, they began to excitedly remember their mother. And everyone tried to emphasize: "She treated me, she taught me," and my heart melted with love and pride for my mother."
---
Had a military childhood #
Father died at the front. Mom was left alone with three children: our house was bombed, we are homeless, naked and hungry. Through the military registration and enlistment office, my mother took shape as a civilian doctor in a military hospital. The place of service was located far away - in the village of Navashino, Gorky Region. And we set out on a long journey. The Battle of Stalingrad has just died down. We were in the hot pursuit of the fighting. On both sides of the newly restored railway track, wrecked tanks and overturned vehicles piled up. Here and there lay uncleaned corpses. But the most terrible impression was made by Stalingrad itself. There was a dead city all around. Not a single whole building - solid ruins.
Against the backdrop of all these horrors, Navashino seemed like a quiet and peaceful village. Mom was dressed in a military uniform. Our new neighbor sewed canvas boots for me and my sisters, his wife knitted woolen socks and gave me her summer coat. My older sister and I ran to school in these shoes all winter. I can't imagine how my legs didn't get frostbitten: the frosts were thirty degrees. These same neighbors fed us, although they themselves lived from hand to mouth. But then life got easier. Mom worked in a hospital, received military rations. In addition, we were given several acres of land, and in the fall we harvested a good crop of potatoes. We perked up, especially since good news came from the front. Ukraine has been liberated, fighting is already underway in Moldova. "Be patient, girls," my mother said, "when the war ends, there will be a holiday on our street." In 1944, my father's brother unexpectedly found us.
He wrote: "Tiraspol has been liberated, it is being restored. We need doctors. Come, we'll find a job."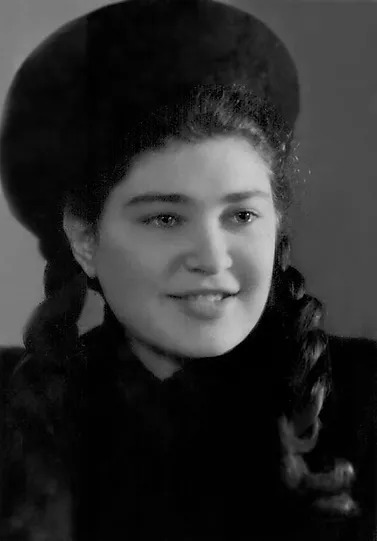 In the liberated Tiraspol #
It was the end of 44 years. Tiraspol met us with the piercing cold of a dilapidated railway station. Traces of the recent occupation were found at every step.
"The quarter has been checked, there are no mines," the hastily made inscriptions said. But there are almost no surviving industrial enterprises and multi-storey residential buildings in these quarters. The central street was especially affected.
"In this beautiful house once lived the director of the cannery named after. On May 1, Kudrina and other canners," said the old-timers.
But the former beauty of the "Kudrina's house" was evidenced only by a miraculously surviving piece of fresco, which threatened to fall on our heads.
"And there was a school here before the war," the neighbors told us, slowing down near the pile of ruins. "And here is the kindergarten."
The charred "box" of the city theater completed the picture of destruction. With difficulty, we climbed the stairs, torn by the explosion, balancing among the ruins, making our way into the auditorium. And they climbed onto the stage, exposing their faces to the rain and snow.
And suddenly, in the midst of this ruin, there was a habitable corner: a pre-war beautiful building of a girls' school where we were to study. (It was later that I saw that there were no windows in the surviving school, no desks.) We were quickly issued at the office, in parting we were warned: "Dress warmly, take pencils with you: ink will freeze in pens."
And yet, I still have the warmest memories of this time - our teachers invested so much warmth in us: mathematician Nadezhda Sergeevna Bobyreva, physicist Zoya Pavlovna Krachun, chemist Tatyana Konstantinovna Trushkovskaya, literature teacher Raisa Dmitrievna Dyachenko.
And finally, the spring of 45 came, the battles were on the outskirts of Berlin. Fruit trees have blossomed in Tiraspol.
That morning, as usual, I was in a hurry to get to school. I went out from Pushkinskaya to the main street and suddenly saw that the whole square was crowded with people. The jubilant voice of Levitan was heard from the loudspeakers, but it was impossible to make out the words. I rushed to run, and as I approached the square, I heard more and more clearly only one word: Victory, Victory, Victory !!! People hugged, kissed, laughed, cried...
I pressed myself against a pole under a blaring loudspeaker. Closing my eyes, I clearly imagined my father leaving for the military registration and enlistment office, as I had last seen him from the window of our apartment and now I will never see him again.
Music boomed. I, along with everyone, mourned the dead, rejoiced for the survivors. The joy of victory overwhelmed people: peace came to earth.
Soon, having passed the matriculation exams, we, the first post-war graduates, gathered for a graduation party.
In the hushed hall, my poems sounded, ending with the words: "I am going into life to serve the Motherland!"
We honestly served the Motherland. All my life they worked with full dedication. And they gave everything they could.
And how painful it is that at the end of life, we were on the sidelines ... "
---
When the soul sings about mom #
Dedicated to Elena Stalinskaya: our mother, grandmother and great-grandmother Lenochka, dear to everyone

Author: Tatyana Kadochnikova
Fate has shown mercy to you: Has enriched your soul with light. You came into this world in the summer. She also left the world in the summer: That soul, spreading its two wings, To the sky, to the sky, to the sky took a course. And before: more than luck You appreciated the warmth of the return And every rainbow particle Hastened to share with people. How many shoots from that heat! Generously, generously, generously you lived. Worthy of misfortune accepted. I did not cry that happiness is not enough. On the sea of grief and care Sailed, clinging to the circle of work. She did not hold evil to adversity: In joy, in joy, in joy you lived. And how she dreamed of goodness, So that even in an ailing old age, Near the last berth, Enough strength to remain needed. Until the last number you have protected your neighbors with deed, deed, deed. And now you send through beams Between another and this light, To induce hearts dear To the desire to live. And for long years. How much light and warmth in the world: In summer, in summer, in summer - You are alive, In summer, in summer, in summer - YOU are ALIVE.